Over-the-Tire Tracks
Skid Steer solution for flotation.
To solve the problem of a skid steer's insufficient flotation and traction, we offer an interchangeable track system for skid steers that give you a full flotation surface for maximum off-road performance with minimal damage to finished surfaces. This unique design allows for operation on concrete and asphalt without chewing up the surface. Other OTT track systems require bolt-on rubber pads, but we offer a system from Traxter where you do not need the extra expense and weight of the rubber pads.
Our Over-the-Tire tracks are primarily designed for use in mud and environments and wet conditions where tires will not get the job done. Don't take the day off because of a little rain! That can be too costly to your business. Increase time on the job and traction with our easy to install skid steer tracks.
See Over-the-Tire Tracks (OTT) in action
Technical Information
Spacers are required if you don't have at least three inches of clearance between the tire and the machine.
We stock over the tire skid steer tracks for skid steer models on ten inch wide tires with a wheel base between 33.5 inches minimum through 41.3 maximum. You can contact us about your model if your wheel base is up to 45.3 inches and we can customize a set for you. If your wheel base is longer than 41.3 then our standard set up will not be long enough for your machine. For the twelve inch wide over the tire track systems our standard set covers models with a wheel base of 37.4 through 45.3 inches. If your wheel base is up to 51.2 inches long then touch base with us prior to ordering so we can customize your order.
There are minimum requirements for the over the tire track systems that vary depending on your tire width. For a ten inch wide tire set up that has a wheel base within the ranges mentioned above your machine requires a minimum of 35 horsepower. We suggest a range of 35-85 for proper functionality. For the twelve inch wide option we need to know the exact width of your tire because there is such a wide variety of tire widths in the aftermarket that qualify as a twelve inch wide tire. We make two OTT skid steer track options for the various widths depending on your specific setup. We suggest a minimum of 55 horsepower with a safe range between 55 and 105 horsepower.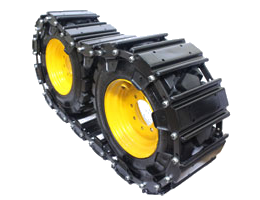 Over-the-Tire Tracks Provide
Go where no skid steer has gone before
Reinforced, hi-flotation profile suitable for all types of terrain including paved surfaces
Innovative modular design
Easy replacement of individual segments and components
Robust hardened steel construction
Long service life with significant protection for the tires
Adjustable length for increased model application
Suitable for a wide variety of wheel base dimensions
More Pushing and Pulling Power in Deep Mud
More traction, more flotation, less ground pressure equals more productivity