Ag Tracks
Tractor · Combine · Grain Cart
While traditional farming equipment uses wheels to move across the fields, an increasing number of farmers are switching to tracked farming equipment. Their reason for doing so mirrors that of the construction industry. Better traction in soft soil. However, unlike construction equipment, tracked farming equipment needs to minimize ground compaction and not damage the valuable crops around it. Rubbertrax agricultural tracks are specifically engineered for this type of environment and offer the same quality and durability you've come to expect in our construction rubber tracks.
Agricultural Rubber Tracks from Rubbertrax
Our ag tracks start with quality materials engineered specifically for agricultural use. While the outside of the track is both functional and beauitful with its one-piece molded carcass and dense track blocks, it's the inside of the track where the magic happens. That's where you will find galvanized steel cables surrounded by multiple layers of wire plies that provide strength, stability, and duribility. The end result is a quality agricultural rubber track from Rubbertrax.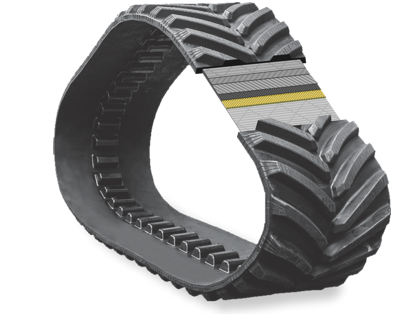 Special Rubber Formula

Special rubber formula for tread pattern provides high wear resistance and durability
Built with a thicker carcass for improved tear resistance
Multiple Wire Layers

Three wire plies placed at different angles above steel cables to improve the stability of the track body
Additional wire ply added under steel cables to protect them from wear caused by the driving wheels
Galvanized Steel Cables

Galvanized steel cables with patented cable structure
Provides high strength along the length of the track
Reinforced Drive Lugs

Reinforced drive lugs use a unique rubber compound with high hardness and tensile strength
Additional drive lugs per track to help prevent de-tracking
Drive Type Differences
There are two different drive types used for Ag Tracks. They are Positive Drive and Friction Drive. A key difference between them is that Positive Drive tracks have rounded bar-like Drive Blocks for a drive lug and Friction Drive uses squared-off Guide Blocks.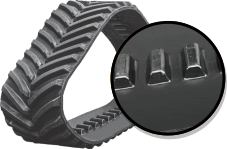 Positive Drive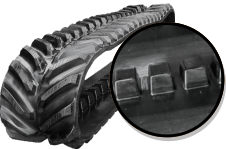 Friction Drive
Shop our Ag Tracks
Now that you know how good our rubber tracks are, let's find the correct set for you. Our online store is open 24/7 to take your orders. Or, if you would like help from one of our talented sales staff, give us a call at 1-800-719-4160 or use the chat button at the bottom of the page.
Some of our popular Ag Tracks
Free and Fast Shipping!
In a world where the word "FREE" is quickly disappearing, Rubbertrax is still able to offer our Free and Fast shipping to any commercial address in 48 States (sorry Alaska and Hawaii). Plus, thanks to our twelve warehouses, we can reach you faster than ever with the availability of Next-Day delivery in 42 States.